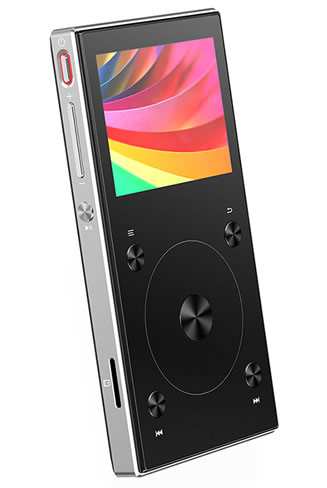 FiiO X3iii Music Player
The FiiO X3iii Portable High Resolution Music Player is the third generation of FiiO's celebrated X3 Portable High Resolution Music Player series, new for 2017. The new X3 3rd generation player is available in two colours; black or red. 
Compared to the second generation of the FiiO X3, this model is now lighter, thinner, features an improved scroll wheel and tempered glass all whilst maintaining the classic FiiO control layout. 
The X3iii also features a 2.5mm balanced output to help you benefit from a wider sound stage. There is still a 3.5mm single-end output port on this model, as well as a SPDIF output. This makes the X3iii one of the most cost effective DAPs that feature both dual DACs and a balanced output currently available on the market.

Features.
Dual high-performance PCM5242 DACs for precise audio replication 
Supports WAV, FLAC, APE, AIFF, WMA, MP3 OGG, DSD64 up to 192kHz/32bit 
Touch wheel for precise UI navigation 
Both a standard 3.5mm phono output along with a 2.5mm balanced output 
Regular firmware updates 
Bluetooth 4.1 compatible 
Accepts microSD cards up to 256GB 
In the box.
The X3iii Unit
2 screen Protectors (+ 1 applied in factory)
Leatherette Case
Hard back plastic case
Coaxial converting cable
Charging cable
Screen protector
User manual