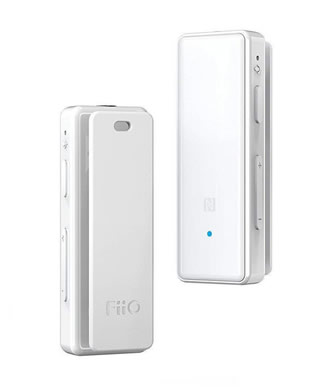 FiiO μBTR Bluetooth Receiver
The μBTR features independent local volume control, which means that you can adjust both the Bluetooth device's volume and the μBTR's own volume separately, making it easier to get the volume that's just right for you.

Listen with the μBTR continuously for 9 hours with it's 120mAh battery, then just charge for 1 hour to go again. The Type-C symmetrical connector ensures that you can just as easily use any modern charger. Recognising that AI is the future, the μBTR allows easy access to voice assistants including Siri with just a double-click of the main button.

Weighing only 12.5g and measuring 5.5cm long, the μBTR is extremely easy to have on you wherever you go, especially with the handy included elastic clips and lanyards.

Getting back to your music over Bluetooth after disconnecting is simple with the μBTR. Simply just press the main key once to easily connect and disconnect. For more convenience the μBTR can be paired up with two Bluetooth devices so that you can waste less time switching back and forth between your favourite gadgets.

The μBTR will default to the last-paired Bluetooth device. With the μBTR's NFC (near-field communication) functionality, simply pair over Bluetooth with just one touch between the devices, saving you the hassle of having to go through a rigorous pairing process.

Inside the heart of the μBTR lies the Texas Instruments TPA6132A2, a high-performance headphone amplifier. This allows the μBTR to bring out the best of your headphones and provide a higher quality wireless experience better than that of a wired connection.

The μBTR brings the premium Qualcomm CSR8645 Bluetooth chip to the affordable device segment for the first time ever! The CSR8645 allows the μBTR to support Bluetooth 4.1 as well as the aptX, SBC and the AAC audio codecs for high-fidelity wireless audio, up to 10 meters.

Features.
Built-in high-performance amplifier Texas Instruments TPA6132A2
Charge for 1 hour with the Type-C symmetrical connector, listen for 9 hours
Can be paired up to two Bluetooth devices
Easy access to voice assistants including Siri
Independent local volume control get a volume just right for you
In the box.
The FiiO μBTR unit
Charging Cable
Quick Start Guide
Warranty Card